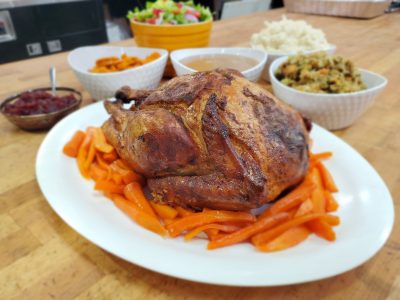 Christmas Meal Kit – Heating Instructions
Order your heat & serve Holiday Dinner from Boryski's and enjoy your day without any of the stress of shopping, thawing, peeling, chopping, and cooking. We have multiple options listed below to suit your family's needs. All of our meals are sent cold, but fully prepped and packed with instructions (also posted below) so you can wow your family.
Orders must be picked up no later than 1 p.m. on Friday, December 24th as we are closed as of 1 p.m. sharp on Christmas Eve for our staff to enjoy the holiday with their families. All orders must be placed on or before Thursday, December 16th, 2021.
Option 1 – "Feast Mode"
Holidays are a time for reflecting and giving, but let's be honest, it's really about eating and leftovers right? If you don't want to spend time fussing over anything in the kitchen, this one's for you.
Roasted and sliced turkey meat (both light and dark meat so you can have some of both), baby carrots, mashed potatoes, gravy, stuffing, caesar salad, cranberry sauce, and buns & butter.
$23 per person; minimum of 5 people
Option 2 – "The Non-Traditionalist" 
Who says Holiday Meals have to be about turkey anyway? Not you – that's who! Make the star of your holiday meal a smoked prime rib instead.
Your non-traditional holiday meal will include a whole, smoked prime rib (we can slice it for you too – just let us know when you order), baby carrots, gravy, stuffing, caesar salad, cranberry sauce, and buns & butter.
$35 per person; minimum of 5 people
** Please note that all invoices will be subject to applicable taxes and an 8% gratuity that is equitably distributed amongst our staff.