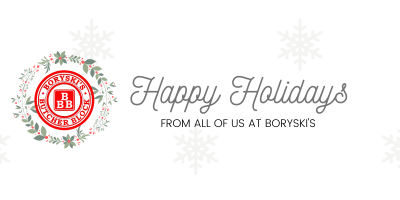 From all of us, a very Merry Christmas and Happy Holidays to you and yours!
We have gift cards and gift baskets for last minute shoppers!
If you're looking for sausage, cold smoked cheese and bacon jam to make your own charcuterie board we can help! If you need a turkey, housemade ham, or roast for your Christmas Dinner, we've got that too!
Need more help with your Christmas Dinner this year? We're offering fully prepared meals to heat & serve when you're ready to eat.
For our holiday hours, click here!
Our regular hours are Monday through Saturday from 9:00 a.m. to 5:00 p.m.
We still have curbside pick up available with some of our favourite butcher shop items. Our menu of available items is below, but if you have a special request we may be able to accommodate it.
If you'd like to place an order, please email shop@boryski.com or call us at 306-242-3456.